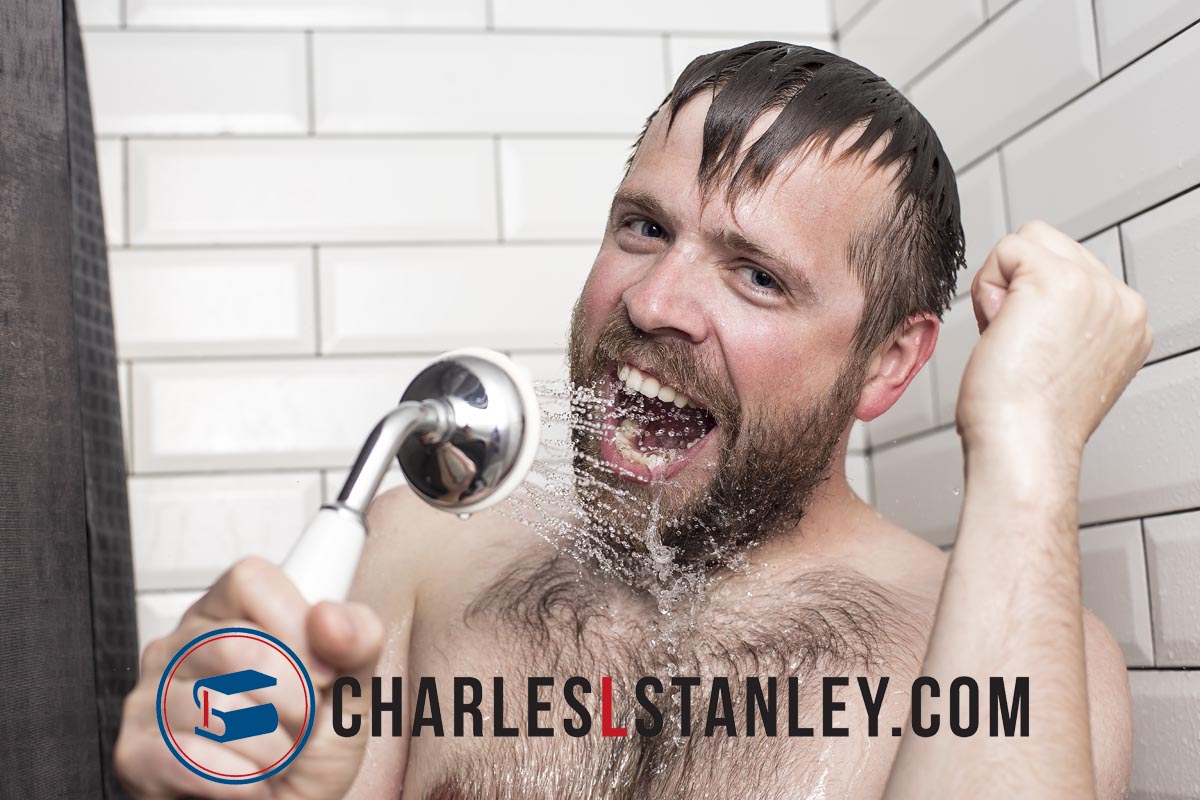 My God, my God, why have you forsaken me?
    Why are you so far from saving me, from the words of my groaning?
2 O my God, I cry by day, but you do not answer,
    and by night, but I find no rest.
3 Yet you are holy,
    enthroned on the praises of Israel.
4 In you our fathers trusted;
    they trusted, and you delivered them.
5 To you they cried and were rescued;
    in you they trusted and were not put to shame. – Psalm 22:1-5
Life gets tough sometimes. Families let us down occasionally and leave us hanging. Churches don't always do an excellent job of shepherding hurting sheep, and when we are the sheep, it hurts a lot. Harboring the feeling that God himself has forsaken you has got to be the absolute worse.
Those familiar with the gospel know that this Psalm was quoted by Jesus while he hung on the cross. As a result, we usually think of this only in terms of being a Messianic Psalm, one that applies to Jesus.  It certainly does that, but we need to remember it initially was written by David who was expressing his own feelings about his own circumstances. This Psalm not only applies to David and Jesus it teaches principles that apply to us.
We need the lessons of this Psalm when we are depressed and feeling like the world and God have left us behind. We are on our own with no answer to our difficulties. To be a little folksy, this is us when we have the mulligrubs and can't hep its.
So where is there hope when there seems to be no hope?
Look at verse three, "Yet you are holy, enthroned on the praises of Israel."
To be "enthroned" indicates a ruling King. He is actively ruling in his kingdom. God is enthroned on the praises of his people, that is, he actively rules in the midst of a people of praise. God is uniquely present in the midst of God's people who are verbalizing and singing his praises. This is not only true in the gathered congregation, but also when we are alone and pouring our hearts out to God in our agony of forsakenness. We are not really forsaken, we just feel like it. An aspect of verbalized praise is the remembrance of God's action in our past and that of our spiritual ancestors.
In you our fathers trusted;
    they trusted, and you delivered them.
5 To you they cried and were rescued;
    in you they trusted and were not put to shame. – Psalm 22:4-5
One beautiful example is found in 2 Chronicles 20. Judah was in big trouble. They were being confronted by three nations who were coming to wipe Judah from the face of the earth: the Moabites and Ammonites, and some of the Meunites. King Jehoshaphat was afraid and set his face to seek the Lord and proclaimed a fast throughout all Judah. The ending of his prayer is a classic.
O our God, will you not execute judgment on them? For we are powerless against this great horde that is coming against us. We do not know what to do, but our eyes are on you. – 2 Chronicles 20:12
The prophet Zechariah stood and said, among other things,
You will not need to fight in this battle. Stand firm, hold your position, and see the salvation of the Lord on your behalf, O Judah and Jerusalem.' Do not be afraid and do not be dismayed. Tomorrow go out against them, and the Lord will be with you. – 2 Chronicles 20:17
Jehoshaphat's response is almost comical.
"Hear me, Judah and inhabitants of Jerusalem! Believe in the Lord your God, and you will be established; believe his prophets, and you will succeed." 21 And when he had taken counsel with the people, he appointed those who were to sing to the Lord and praise him in holy attire, as they went before the army, and say,

"Give thanks to the Lord,
    for his steadfast love endures forever."

22 And when they began to sing and praise, the Lord set an ambush against the men of Ammon, Moab, and Mount Seir, who had come against Judah, so that they were routed. 23 For the men of Ammon and Moab rose against the inhabitants of Mount Seir, devoting them to destruction, and when they had made an end of the inhabitants of Seir, they all helped to destroy one another. – 2 Chronicles 20:20-23
Instead of appointing chariots, swordsmen, men with lances and bows and arrows to lead the way, he sends out the choir to lead the way! They led the way singing thanksgiving and extolling God for his steadfast love, his HESED, his covenant love that endures forever. Our God is enthroned, he rules actively, on the praise and thanksgiving of his people.
Another classic example is from the book of Acts when Paul and Silas were jailed.
 About midnight Paul and Silas were praying and singing hymns to God, and the prisoners were listening to them, 26 and suddenly there was a great earthquake, so that the foundations of the prison were shaken. And immediately all the doors were opened, and everyone's bonds were unfastened. 27 When the jailer woke and saw that the prison doors were open, he drew his sword and was about to kill himself, supposing that the prisoners had escaped. 28 But Paul cried with a loud voice, "Do not harm yourself, for we are all here." 29 And the jailer called for lights and rushed in, and trembling with fear he fell down before Paul and Silas. 30 Then he brought them out and said, "Sirs, what must I do to be saved?" 31 And they said, "Believe in the Lord Jesus, and you will be saved, you and your household."32 And they spoke the word of the Lord to him and to all who were in his house.33 And he took them the same hour of the night and washed their wounds; and he was baptized at once, he and all his family. 34 Then he brought them up into his house and set food before them. And he rejoiced along with his entire household that he had believed in God. – Acts 16:25-34
Their deliverance came, Jesus overruled their jailers, as they were "praying and singing hymns to God."
Do you feel forsaken? Take this word to heart and give yourself to verbalizing thanksgiving and praise to God for his steadfast love (grace) that endures forever. This isn't a formula to get God to do what you want, but it is a Biblical directive to call down the kingdom of God in your situation where Jesus will be present to rule for his glory and your good. Who knows, your praise might precipitate an earthquake, either literal or figurative.